Ft Lauderdale Beach
Spring Break 2018: Road tripping to Ft. Lauderdale is making a come back. Last year, hundreds of Ohio University Bobcats selected historic Ft. Lauderdale as their Spring Break destination of choice.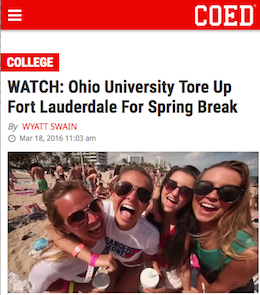 As with the Spring Breakers of the 60's, the Bobcats took to the Ft. Lauderdale beach across the street from the historic Elbo Room Bar, featured in the Spring Break movie classic "Where the Boys Are."
The Bobcats were featured in a Coed Magazine photo story "Ohio University Tore Up Fort Lauderdale For Spring Break"
Spring Break 2018 News
Fort Lauderdale's proposed rules for Spring Break 2018 go too far
Sun Sentinel | City leaders are considering a crackdown on coolers, floats, speakers, tents and tables for future big crowds at the beach. Violators could be arrested and face a $500 fine.
---
Top Ten Tips
The most popular section of beach is the "Strip" where A1A runs along side the beach, between Las Olas Blvd north to Sunrise Blvd.
Alcoholic beverages are prohibited on the Ft Lauderdale beach.
Ft Lauderdale established a lot of regulations to discourage Spring Breakers in the 70's, so check out the Beach Regulations
Check out the the bars and clubs along SW 2nd Street aka Cooley Hammock. it is the place to be when the sun goes down.
The oldest Spring Break Bar in the county is the Elbo Room
The RiverWalk runs along the north side of the new river, from the shops at Las Olas to the performing arts complex.
Running east-west along Las Olas Boulevard is the entertainment district. On the east side you will find a number of upscale shops and restaurants. On the west side you will find the newer nightclubs and restraunts.
Check out the Beach Webcams
The drinking age in Florida is 21 but you can get into the bars and clubs if you are at least 18. And yes, the bars and clubs are very strict on IDs.
Remember to protect yourself with SPF 15 Sunblock every day.